The Codesign lab contributes to Telecom ParisTech graduate program with mainly two focuses: first design research and second design practices.
1. Graduate program on design research
Master Recherche: Design, médias, technologie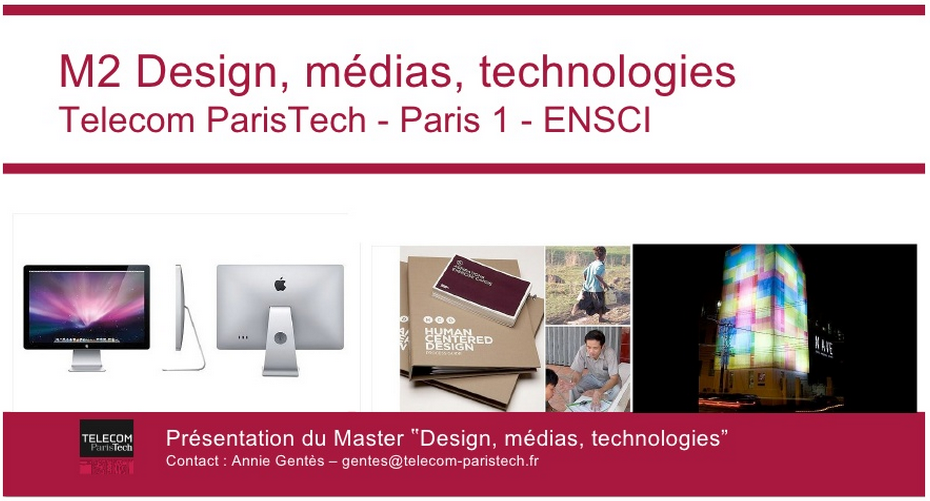 Le Master 2 spécialisé en design, médias et technologies est un Master 2 co-habilité entre Paris 1- Panthéon Sorbonne, Telecom ParisTech, avec la participation de l'ENSCI les ateliers (Ecole Nationale Supérieure de Création Industrielle).
Les étudiants : Le M2 Design, Médias et Technologies est ouvert aux étudiants de l'université Paris 1, de Telecom ParisTech et de l'ENSCI et aux candidats de toute autre institution.
Vous êtes étudiants à Telecom ParisTech vous pouvez vous inscrire dans le M2 Design, Médias et Technologies, comme alternative à la 3ème année. Vous êtes également dispensés de certains des cours du M2 Paris 1 (stages et langues par exemple en fonction du cursus de l'étudiant)
More here
2. Graduate program on design practices
Digital Creation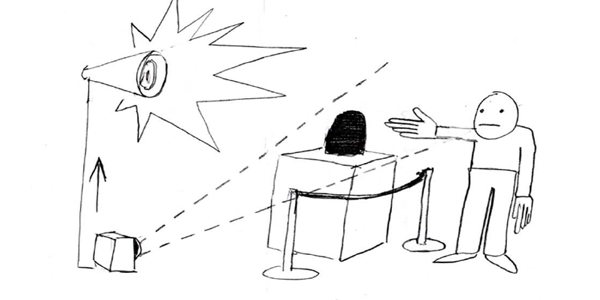 This course aims at:
observing contemporary aesthetics and analyzing works of art
questioning the specificity of digital arts.
developping students' creativity through a personal poetic multimedia project.
Each year students work on a different theme.
Digital Creation '10 : « Forbidden Touch in Museums »
Digital Creation '09 : « Augmented city »
Digital Creation '08 : « New times, new portraits »
More on the digital creation course here
Designing for information technologies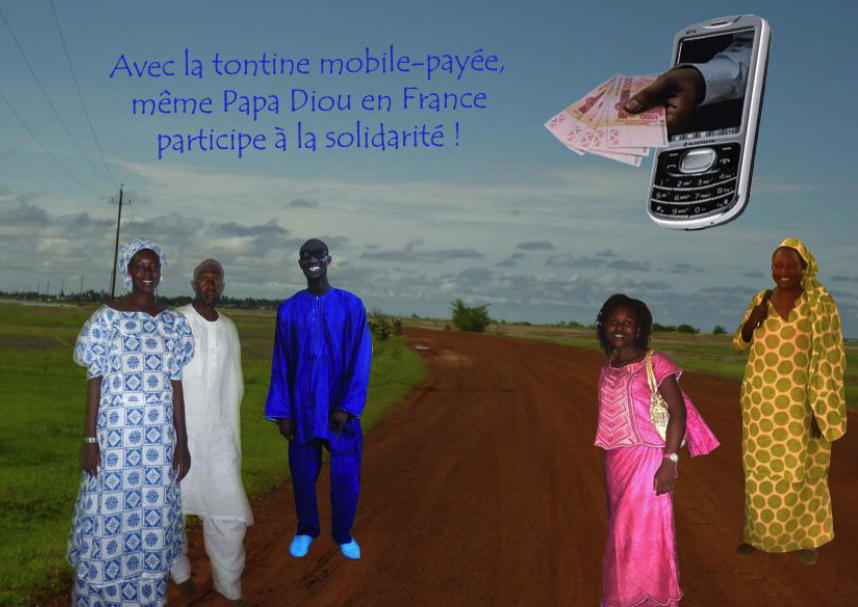 The ICT design course is organized by 3 schools : TELECOM ParisTech, ENSCI-Les Ateliers (www.ensci.com) and Paris 1 – Panthéon Sorbonne.
It is about :
design and its relations to the technical artefact,
design & innovation methodologies.
Innovation and design
Aujourd'hui, l'innovation est centrale dans la stratégie d'entreprises productrices tant de biens que de services. Elle permet de transposer les technologies dans des produits ou des services à succès. Dans ce cours, nous montrerons l'importance croissante du design dans le développement de produits ou de services.
Si vous êtes intéressé par la R&D, la créativité, la conception de nouveaux services et produits, et les nouveaux modèles d'innovation ouverte (Facebook, AppStore, Innocentive, etc.), ce cours vous concerne. Ce cours devrait aussi intéresser les élèves qui suivent des enseignements en conception/ingénierie logicielle ou matérielle à l'école ou qui ont réalisé des projets/des stages en conception, en marketing, en gestion de projets ou en knowledge management. Les élèves ont la possibilité de poursuivre en P4 dans le cadre des projets d'innovation.
En participant à ce cours,
1 – vous apprendrez les méthodes de design et développerez un projet innovant
2- vous prendrez conscience des dimensions économiques, organisationnelles, juridiques et sociales de l'innovation,
3 – vous réaliserez la nécessité de penser l'innovation de façon intégrée et continue tout au long de la chaine de valeur,
4 – vous développerez vos compétences créatives pour devenir ainsi des ingénieurs innovants
Game design : Augmenter le monde
L'informatique pervasive permet aujourd'hui d'augmenter les lieux, les objets et de dédoubler nos vies entre réel et virtuel. Elle donne lieu à ce que l'on appelle une ludification (gamification) du monde. Le cours est d'abord une exploration de ces jeux en réalité augmentée ou en réalité alternée. Il s'appuie ensuite sur les capacités créatives des étudiants qui doivent imaginer des jeux en confrontant dans la mesure du possible des univers d'origines diverses pour créer un jeu véritablement innovant.
Après une courte découverte des jeux existants, les étudiants devront ainsi développer leur propre jeu de réalité augmentée. Les différentes étapes du design seront abordées et pratiquées : état des lieux des jeux pervasifs (comment s'inspirer et se démarquer de jeux existants) ; phase de brainstorming, recherche des thématiques graphiques, analyse des technologies utilisables et de ce qu'elles recèlent comme potentiel ; création de plusieurs scénarios prenant en compte un terrain précis de déploiement du jeu ; maquettage ; test et mise en œuvre du jeu de façon itérative.
L'évaluation sera faite sur la présentation des jeux en présence d'un designer spécialiste de ces questions.
3. Joint programs
Tools & Methods for Practice-led Research / Ecole de Condé-Paris
UE 5, MA « Global Design – Research & Innovation »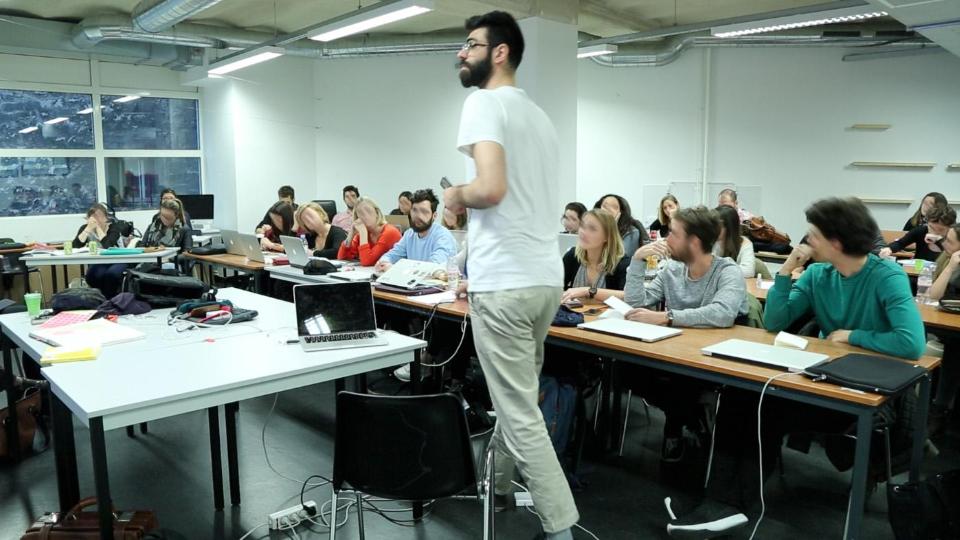 This seminar aims at introducing students to methodological tools for project-grounded and practice-led research.
The educational sequence is building upon the following proposition : giving the students the opportunity to understand how and why to shift (if not deterritorialize) tools and skills from their project-driven design practice to the design-research field. This specific orientation was triggered by their thesis supervisor's observation (Tiphaine Kazi-Tani) that the students had difficulties to think of a design project in other ways than the endeavour to respond to a question with a "design-led answer" ("réponse de design", Findeli, 2015).
This introductory 6-weeks seminar on design research methodology is divided in five courses delivered by four different contributors: Tiphaine Kazi-Tani – their thesis supervisor and one of our associate researcher- and guests. Divided in four themes, this seminar is aiming at helping students to identify and raise an awareness towards the research value of their own design skills, and encouraging them to shift these skills from a design practice approach to a design research approach.
The four themes of the seminar :
Week 1 & 2 (T. Kazi-Tani, CoDesign Lab): « Influences and references : corpus and state of the art ». How to bridge design tools such as benchmarking, reference finding if not moodboarding, to research tools such as constituting a corpus and mapping a state of the art.
Week 3 (Max Mollon, CoDesign Lab/SACRe-PSL): « Working, experimenting, searching : about protocols ». How to bridge exploratory methods in design practice with exploratory methods in design research.
Week 4 (François Huguet, CoDesign Lab): « On the Field 101 ». Discovering what a good field research should be, and how to make a difference between Social Research for Design and Social Research through Design.
Week 5 & 6 (Lucile Haute, Université de Valenciennes/EnsadLab). « Thinking Drawing Designing ». Exploring drawing as a reflexive tool.
4. Past programs (archives)
EnsadLab seminar (2013-2014)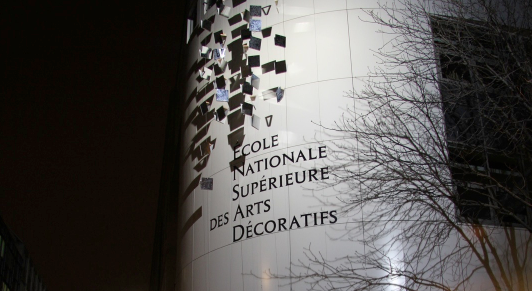 This course is given to EnsadLab/ Sociable Media (2013-14)
List of themes:
Writing research papers in design
Rhetoric & narrative in design
Introduction to qualitative methodologies
Analysis of Wendy's papers
Humanities and design: methods for analysing artefacts
Exploring models of design
Misbehaving workshop (2014-2015)
Following one of our transversal research topic, we conducted a workshop with Master's students (Mastère Design Global, Recherche & Innovation) at École de Condé, in Paris. This workshop aimed at :
confronting educators and students with a method based on disputing the project and its context
sharing conceptual and methodological inputs emerging from our current « Misbehaving » research
exploring the possibility of sharing if not teaching project methodologies based on a misbehaving attitude
turning a design education context as a possible design research field